The ITC Council
The ITC Council at the July 2017 Council Meeting in Amsterdam.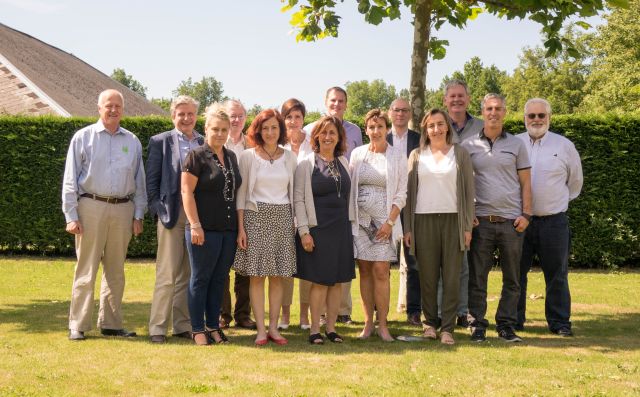 Present in picture (from left to right): Neal Schmitt, Jacques Gregoire, Ananda van Tonder, Dave Bartram, Anna Brown, Aletta Odendaal, Kadriye Ercikan, Stephen Stark, Nathalie Loye, Dragos Iliescu, Paula Elosua, Peter Macqueen, Steve Sireci, Kurt Geisinger.
Not in picture: Kazuo Shigemasu, Solange Wechsler, April Zenisky.
Composition of, and roles in Council
| | | |
| --- | --- | --- |
| Council role | Name | Institution, Country |
| President | Prof. Dragos Iliescu | University of Bucharest , Romania |
| President-Elect | Prof. Kurt Geisinger | Buros Center on Testing & University of Nebraska, USA |
| Secretary-General | Dr. Aletta Odendaal | University of Johannesburg, South Africa |
| Treasurer | Prof. Kurt Geisinger | Buros Center on Testing & University of Nebraska, USA |
| Elected Member | Prof. Paula Elosua | Universidad del Pais Vasco, San Sebastian, Spain |
| Elected Member | Dr. Anna Brown | University of Kent, UK |
| Elected Member | Prof. Neal Schmitt | Michigan State University, USA |
| Elected Member | Prof. Steve Sireci | University of Massachusetts, USA |
| Co-Opted Member | Prof. Dave Bartram | United Kingdom |
| Co-Opted Member | Prof. Kadriye Ercikan | University of British Columbia, Canada |
| Co-Opted Member | Prof. Solange Wechsler | Pontifical Catholic University of Campinas, Brazil |
| Co-Opted Member | Dr. Peter Macqueen | Compass Consulting, Australia |
| Co-Editor of IJT | Dr. Avi Allalouf | NITE, Israel |
| Co-Editor of IJT | Dr. Stephen Stark | University of South Florida, USA |
| Editor of Newsletter | Dr. April Zenisky | University of Massachusetts, USA |
| IUPsyS Representative | Prof. Kazuo Shigemasu | Japanese Psychological Association |
| IAAP Representative | Prof. Jacques Gregoire | University of Louvain, Belgium |
| Observer | Dr. Nathalie Loye | University of Montreal |