Fellows of the ITC
The ITC Fellows at the Amsterdam Conference, in July 2012.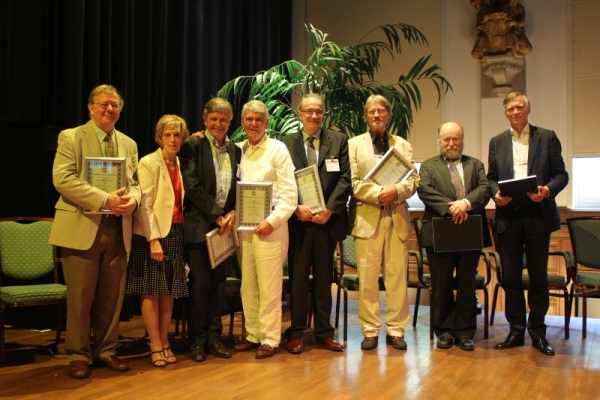 From left to right: Dave Bartram, Barbara Byrne, Jacques Gregoire, Tom Oakland, José Muñiz, Jac Zaal, Ron Hambleton, Ype Poortinga
The International Test Commission depends very much on the supportive and effective work of many people. None are more important and influential than those who have made a sustained contribution to the running of the Council, the sustained creation of its products (e.g. the Guidelines), the involvement in Conferences and so many other contributions on behalf of
the ITC.

To be eligible for Fellowship of the ITC a candidate must have at least 10 years' service on the Council, have spent some time in the role of one of the officers of the Council and made a significant contribution to the work of the ITC.
The Honorary Fellows of the ITC (award ceremony at Amsterdam 2012 ITC conference pictured above):
Ype Poortinga
- First President of ITC (1976-1978)
- Past-president (1978-1982).
- Ype was responsible for establishing the ITC as an independent, international body

Ron Hambleton
- Member of Council since 1980.
- President-Elect [1986-1990], President [1990-1994], Past President [1994-1998]
- Council member, IAAP liaison and Secretary [2006-2010]
- Lead developer of the ITC International Guidelines on Test Adaptation Lead person with Tom Oakland for the first two ITC conferences (Oxford, 1993 & Washington, 1999)

Jac Zaal
- Vice-president [1982-1986], President [1986-1990] and Past President [1990-1994], Treasurer [1994-1999]

José M?niz
- Member of Council 1988 to 2008.
- President-elect [2002-2004], President [2004-2006], Past President [2006-2008].

Tom Oakland
- President-elect [1994-1998], President [1998-2000], Past President [2000-2002]
- Member of Council including IAAP liaison [2002-2012]
- Responsible for formal incorporation of ITC.
- Lead person with Ron Hambleton for the first two ITC conferences (Oxford, 1993 & Washington, 1999)

Jacques Gregoiré
- Secretary [1994-2004]
- President elect [2004-2006], President [2006-2008], Past-President [2008-2010]
- Lead person for the 2006 ITC Conference in Brussels.

Barbara Byrne
- Newsletter editor [1994-1999]
- Treasurer [1999-2012]

Dave Bartram
- Council member [1994-1998]
- President-elect [1998-2000], President [2000-2002], Past-President [2002-2004]
- Co-opted and IAAP liaison [2004-2010]
- Secretary [2010-2012]
- International Guidelines on Test Use and (with Iain Coyne) of the International Guidelines on Computer-based and Internet delivered tests.
- Winchester (2002) and Liverpool (2008) ITC Conferences